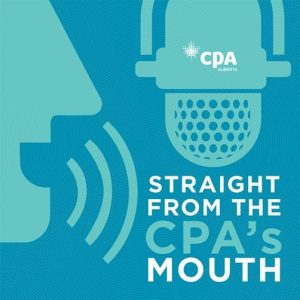 What do a prominent business leader, a paralympic cyclist, and an accountant in a Communications department all have in common? No, they're not all walking into a bar… they are all guests on the CPA profession's new podcast series, Straight From the CPA's Mouth.
This exciting, new podcast series gives voice to CPAs from across the province. As featured guests, Alberta CPAs will share their thoughts on everything from leadership to education to finance, with every episode focusing on a stimulating question that allows students, professionals, and others to gain insight into the various and ever-evolving worlds of business and accounting.
Straight From the CPA's Mouth is an initiative of the CPA Education Foundation's new Hesje CPA Knowledge Centre—a virtual hub of resources and materials for students and other inquisitive minds who are hungry for knowledge and news in leadership, finance, business, entrepreneurship, career building, and more.  The first of its kind in Alberta, Straight From the CPA's Mouth inspires success by sharing the stories of CPAs. It highlights CPAs at the centre of information and innovation; allows the profession to foster valuable connections with students, the business community, and the public; and elevates the reputation of CPAs as experts and those at the forefront of change.
The series launches on May 27, and episodes will focus on the career, talents, hobbies, and insights of some of Alberta's most unique CPAs. More information and the latest news on the Knowledge Centre and podcast can be found at https://www.cpaalberta.ca/Foundation/Hesje-CPA-Knowledge-Centre.