Sometimes achieving personal success takes a leap of faith.
Couple that with personal interests, a business insight and technical experience and you've created the opportunity for a perfect blend towards success.
For Charlie Bredo CPA, CA, he's taken his business experience and knowledge he's gained over the years and combined it with his love of craft brewing to begin a new chapter in his life. Charlie is the Co-Founder of Troubled Monk Brewery in Red Deer and has been in business since 2015.
He is the keynote speaker for CPA Alberta's Lunch with the Pros fall series in Calgary on Tuesday, October 24. The event takes place at the Hotel Arts in downtown Calgary.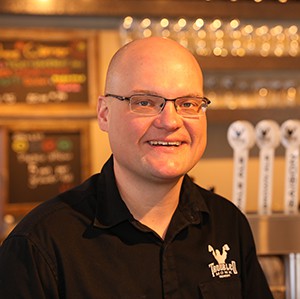 Event details:
Registration/Networking 11:30 a.m. to 12:00 noon
Lunch/speaker 12:00 noon to 1:00 p.m.
$10 to register
Charlie's journey began at the University of Alberta, where he obtained a Bachelor of Commerce in 2004. Shortly afterwards he obtained his Chartered Accountant designation through Deloitte in Calgary and Collins Barrow in Canmore.
After completing his CA designation, Charlie worked as the Vice President of Operations for Prestigious Properties, a real estate investment firm. There, Charlie oversaw accounting, finance, property management, and operations for assets throughout Western Canada, Ontario, and Texas. Excited for a new challenge, Charlie started Bow Valley Power, which retails electricity to homes and businesses throughout Alberta, while living in Canmore. Charlie expanded Bow Valley Power to customers in over 120 Albertan communities before selling it in June 2015.
In January 2013, Charlie relocated back to Red Deer, where he originally grew up, to be closer to family. Two years later Charlie co-founded Troubled Monk Brewery. Troubled Monk focuses on making hand-crafted beer, soda, and spirits. Troubled Monk beer is available throughout Alberta and the brewery is proud to have won awards at the local, national, and international levels.
On top of hearing Charlie's story, the Lunch with the Pros is an opportunity for CPAs from all various industry to meet, connect and share their personal journey. To register for the event visit https://www.eventbrite.ca/e/lunch-with-the-pros-2017-fall-presented-by-cpa-alberta-tickets-37429981081
This event is part of the fall series of Lunch with the Pros, which features prominent CPAs in the community and allows them to share their personal story of success in industry.