Strategic business acumen is a key competency of Chartered Professional Accountants (CPAs), and in Alberta, English is the predominant language of business. But with the global workforce becoming more integrated, some organizations are adapting to serve multicultural clients. This creates opportunities for bilingual CPAs like Mathieu Lepage and Yohannes Feyissa.
Accounting "En Français"
September 2017
Written by Quinta Iticka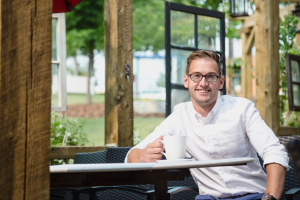 Mathieu Lepage CPA, CGA appreciates the value of having access to resources in his first language. When he moved to Alberta with his parents in 1996, he only spoke French. "We were fortunate to have a great Francophone school system here that allowed me to complete my elementary and secondary studies in French," says Mathieu. He then pursued bilingual post-secondary studies and subsequently earned his designation in English.
Mathieu's bilingual background facilitated his transition to Bergeron & Co., an Edmonton-based accounting firm where he is a partner. The firm serves western Canada's burgeoning French-speaking population.
The Francophone heritage in Alberta dates back to the 1780s when Montreal traders first arrived in western Canada. Some of these travelers married Indigenous (mostly Cree) women and established the first Francophone and Métis communities in Alberta. Throughout the 19th century, waves of settlers from Québec and Belgium also established their own communities, further strengthening the province's French-speaking presence.
Alberta's French-speaking population has also experienced significant growth in the past decade. According to the 2011 Statistics Canada Census, the province's Francophone population is growing faster than any Francophone population in all of Canada. Approximately 238,000 Albertans speak French either as a first or additional language.
Fortunately, Mathieu and his team at Bergeron & Co. possess a solid combination of language and business skills to meet the needs of this vibrant community. The firm offers consulting, taxation, compilation, and assurance services to personal, corporate, trusts, and not-for-profit organizations in both official languages. "Is our team 100% bilingual? Absolutely!" says Mathieu. "We aim to keep it this way to make sure our clients are comfortable, regardless of which staff member they interact with."
Cutting-edge technology, and impeccable business and language skills enable French-speaking CPAs to provide top-notch services to Alberta's Francophone community, but there are a few challenges. "Because all my post-secondary accounting courses were only offered in English, I had to re-learn the accounting terminology in French in order to effectively communicate with our Francophone clients," says Mathieu. "Also, most services in Alberta are only offered in English. This creates a reliance on Bergeron & Co. to translate a lot of documents for clients."
Despite the challenges, Mathieu enjoys working in his first language and using his skills to operate a small firm. "Being a CPA is beyond numbers and financials," he says. "It is about providing customized services, building long-term relationships with clients, and growing with them. With my designation, I can also add tremendous value to the growth of the French-speaking community in Alberta."
Serving as treasurer for La Fête franco-albertaine certainly allows Mathieu to play a leadership role in his community. The yearly festival brings together Francophones and Francophiles (French enthusiasts and admirers) from across Alberta to celebrate the French language and culture. It provides the community a platform to demonstrate their "joie de vivre" (joy of living) in Alberta.
Being a bilingual CPA has created many opportunities for Mathieu. Best of all, it has enabled him to contribute to shaping the careers of bilingual CPA students by being a mentor to them.
Bridging the culture gap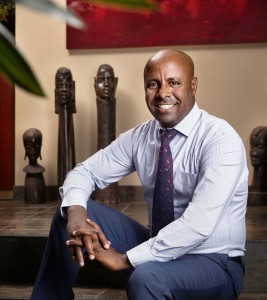 To successfully conduct business in a foreign country, it's vital to understand its language and culture. This is the value Yohannes Feyissa CPA, CGA brings to Agriteam Canada.
Based in Calgary, Agriteam designs and implements donor-funded projects worldwide in areas such as health, gender equality, education reform, agriculture, community development, and public sector reform. The organization provides management and technical expertise to developing and transitional country partners on projects that promote sustainable growth.
As a finance officer at Agriteam, Yohannes oversees the budget of a Small Scale and Micro Irrigation Support (SMIS) project in Ethiopia. The $30 million, five-year project is a donation to the Ethiopian government by Global Affairs Canada and the Dutch government, and its goal is to provide Ethiopians better access to more nutritious food through sustainable irrigation methods.
Yohannes manages the financial reporting to stakeholders. He also does site reconciliation for Agriteam, which means verifying bank statements and advances on a monthly basis. But what sets him apart is his ability to perform these responsibilities in Amharic, the official language of  Ethiopia.  "Most  of the documents we receive from the project office in Ethiopia are in Amharic and English," says Yohannes, "so it is clearly an advantage for Agriteam to have a Chartered Professional Accountant who understands the financials of the project, and the culture and working language of the client."
Located in east Africa, Ethiopia is bordered to the north and northeast by Eritrea; to the east by Djibouti and Somalia; to the west by Sudan and South Sudan; and to the south by Kenya. With more than 100 million inhabitants, it is the most populated landlocked country in the world and the second most populated African country, after Nigeria. But what's even more remarkable about the country is its unique culture, compared to Canada and the rest of the world.
Ethiopia has a 13-month calendar, with the first 12 months having 30 days each. The 13th month has five days in a common year and six days in a leap year. "This directly affects the calculation of the budget year," says Yohannes.
This article originally appeared in CPA Alberta's Capitalize magazine.