By staying true to their passion, two CPAs built a local Kombucha company while giving back to the community.
September 2017
Written by Andrew Moore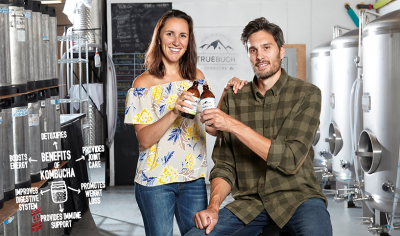 It takes a special skillset to identify an opportunity in today's marketplace, especially one that doesn't have many competitors, but that's exactly what Louisa Ferrel CPA, CA and Conrad Ferrel CPA, CA did. The husband and wife duo are the founders of True Büch Kombucha. Kombucha is an increasingly popular fermented tea drink that originated thousands of years ago, and only recently started being brewed in the Wild Rose province.
While the drink has existed in many parts of the US and around the world for decades and was previously imported into Alberta, it wasn't until Louisa and Conrad spent a year travelling the world that they decided to set up shop and start brewing the drink in Alberta.
"We knew if we could convince a few businesses to take it in, it could be successful," says Louisa. "We brewed two kegs for a local grocery store and went on vacation. After the first day, we got a call saying they were sold out and needed more."
That's when they thought this might be something big. Four months later, Louisa left her job at KPMG to run True Büch with Conrad full-time.
True Büch Kombucha is promoted as a bubbly, fermented tea elixir with Asian roots dating back over 2,000 years. It is full of living probiotics, enzymes, and amino acids that are all beneficial for the digestive system. The brewery, located in northeast Calgary, operates much like any craft beer operation. In fact, they have two employees from the Olds College Brewing Program—a program specifically designed for beer brewing.
Before starting True Büch, Louisa spent 12 years in accounting, four years working on her CPA designation, and eight years doing campus recruiting. Conrad was the CFO at a private company selling commercial real estate for senior citizens' homes but had been brewing kombucha himself for years due to digestive issues. When the company he was working for sold, he decided to start brewing full-time.
"We started brewing draught kombucha for a few local retailers and farmers' markets in 2014," says Louisa. "We now have more than 100 retailers across Alberta."
Like running any business, there are going to be operation challenges. To help things run smoothly, True Büch uses technology, including the use of social media and productivity apps to help track kegs and employee hours.
"We use an app called Crafty," says Louisa. "It was invented for microbreweries. We can put a barcode on our kegs, and when you take a keg out of the fridge, you scan it and track it. This process makes tracking the more than 1,000 kegs we have in circulation a lot more manageable. We were at a point where Conrad was doing it all in a spreadsheet, so this app has been a game changer for tracking inventory."
In addition to Crafty, True Büch uses Slack, an app to communicate with staff. This collaboration app allows people, who don't always sit at a computer, to message everyone and archive topics.
While True Büch indeed started from very humble beginnings (a small shop with no machinery meant bottling and labelling were all done by hand), they have recently made their largest investment to date and purchased a bottling line.
Each bottle has custom artwork, and depending on which flavour you buy, a portion of the money goes to a local charity. Charities include PALS (Pet Access League Society), an organization dedicated to enhancing the quality of life of individuals through pet therapy; Be Local (REAP), a nonprofit association for locally-owned businesses that care about the community and the environment; Wym- bin, an organization that runs free yoga programs for underprivileged kids; and LeftOvers Calgary, a nonprofit that rescues food from being thrown in the garbage, and ensures it gets to service agencies in need.
"All of the charities we support are super grassroot organizations that have a connection to us and that we're passionate about," says Louisa. "We have great relationships with the organizations and have heard nothing but great feedback from our customers about these charities."
Their draught "flavour of the month" is paired up with Mealshare—each month they make a special flavour, and each time a bottle is sold or filled, a meal goes to a youth in need.
In addition to running True Büch, Louisa and Conrad have started a non-profit initiative called True Incubator. The program brings together local entrepreneurs who may not have the necessary training to run a business and puts them through an intensive 12-week course on how to start and grow a business.
"In the last three years, being a part of the community of entrepreneurs, we've noticed a huge skill gap between people who start new businesses," says Louisa. "We just finished with our first cohort and had over 70 applicants. For many, the process has been life-changing."
Much of Louisa and Conrad's success can be attributed to their passion for their product and being a part of the community, but when it comes down to the business side of True Büch, it couldn't come to fruition without the skills and training learned throughout their journey to becoming CPAs.
"Having an accounting background is so valuable at this point. I don't think we'd be able to do any of the things we've done if we weren't CPAs," says Louisa. "It didn't have to be kombucha; you could insert any business, and we could make it work. We were lucky that it caught on and grew so fast, but if Conrad and I were not CPAs, this business would not be successful."
If you're on the fence about getting your CPA designation, Louisa says just do it. Put in the time, and then everything good will happen after that.
This article originally appeared in CPA Alberta's Capitalize magazine.