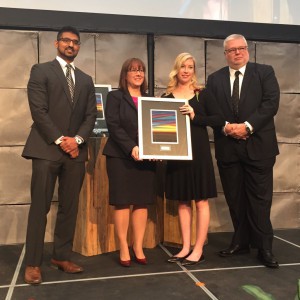 CPA Alberta has been recognized with the SAIT President's Partnership Award. The award is given to companies or organizations who have a long-term commitment with SAIT and are dedicated to sharing its vision. For the past 20 years, CPA Alberta and its precursors have worked with SAIT to develop leading-edge accounting curriculum.
"CPA Alberta is honoured to receive this award," said Rachel Miller FCPA, FCA, CEO of CPA Alberta. "We are delighted to be able to work with the passionate educators and dedicated students at SAIT in developing the next generation of business leaders for Alberta. For us, the partnership with SAIT is incredibly productive, and is highly valued by all Alberta CPAs."
Each year, SAIT's president and CEO hosts partners, donors and friends to a dinner prepared and served by SAIT culinary and hospitality students. The event has been an annual tradition that showcases SAIT's model of applied education – the venue and the evening is literally a live classroom for SAIT students. Three hundred guests enjoyed a four-course meal prepared and served by more than 200 students from SAIT's School of Hospitality and Tourism.  Students also act as emcees, award presenters, cameramen, on-scene reporters and volunteers.  The event is the forum for the president to present the annual President's Awards.
"These awards recognize supporters who work with us to develop and deliver world-class applied education," said David Ross, President and CEO of SAIT. "As partners for more than two decades, SAIT is honoured to recognize CPA Alberta for their commitment to SAIT students and to the thousands of accounting professionals they support."
In addition to the award recognition, SAIT unveiled its new brand and logo to those in attendance at the gala—a timely update as SAIT enters its centennial year.
For more information about SAIT's President's Awards Gala, click here.