Garth Sheriff CPA, CA, CIA, is no stranger to CPA Alberta's Professional Development (PD) program. He's led several in-person seminars and has been an energetic facilitator at numerous PD conferences.  As the PD program pivoted to an online environment due to COVID-19, Garth's company, Sheriff Consulting, adapted as well, adding an online category to the business.
Utilizing Garth's experience in stage and film, Sheriff Consulting Online now offers online recordings, focused on maintaining the engaging and impactful learning experience his audience has come to expect in-person. Seminar topics include technology, professional ethics, assurance updates, and communication skills. To help support Alberta CPAs through the COVID-19 crisis, Garth is also offering De-stress for Success as a complimentary session.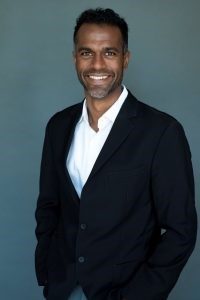 Who is Garth Sheriff?
Garth Sheriff, CPA, CA, CPA (Illinois), CIA, MAcc, is the founder of Sheriff Consulting (sheriffconsulting.com).
Garth worked as an assurance professional and learning provider for over 15 years. He has prepared and trained CPAs for key changes to the profession, including internal control documentation (SOX), Canadian Auditing Standards (CAS) and Canadian Standards on Review Engagements 2400 (CSRE 2400).
He earned his Master of Accounting and a Bachelor of Arts (Honours – Accounting) from the University of Waterloo, and is a member of the Chartered Professional Accountants of Ontario (CPAO), American Institute of Certified Public Accountants (AICPA) and the Institute of Internal Auditors (IIA).
Garth has also acted in various stage and film productions. He is a graduate in improvisation from The Second City and a member of ACTRA (the Alliance of Canadian Cinema, Television and Radio Artists).
You can also connect with Garth on LinkedIn.
Register for one of Garth's on-demand PD sessions – available now on the PD Portal:
Interested in more than one seminar? Take advantage of CPA Alberta's Passport Program and save up to 30% on pre-purchased bulk PD for you or your team. Purchase today to save an extra $200 with the early bird rate. Search our new PD Portal for other inspiring topics and instructors at pd.cpaalberta.ca.
Q&A: Talking with Garth Sheriff
We wanted to get to know Garth even better, so we asked him some questions.
Q: You have acted in various stage and film productions, performing in plays such as Deathtrap and One Flew Over the Cuckoo's Nest. Which role was the most challenging for you to perform and why?
A: The most challenging role I performed was that of Clifford Anderson in playwright Ira Levin's fantastic dark comedy, Deathtrap. This was my first lead in a stage play and I was fortunate enough to be on stage with a wonderful group of performers at Stage Centre Productions. Deathtrap is dense with dialogue, action and word play. I thought studying for the CFE was a lot of hard work but memorizing the lines for this character took a serious amount of effort and energy! I was also extremely nervous with this being my first lead in a stage play. It was a challenging and truly rewarding experience that I will never forget.
The second most challenging role that I performed was an unnamed character in a 30-second KFC boneless chicken wing commercial. "Why," you might ask? Because I didn't realize you weren't supposed to eat the boneless chicken wings on each take until about take 40. I started to feel pretty awful after take 20… and I have NOT eaten KFC since that commercial shoot.
Q: You mention your goal is to make the professional development experience engaging. What are some of the methods or strategies you use to develop engaging material?
A: The most important resource for me is research on learning modalities. There are four ways in which learners receive information, called modalities, which are represented by the acronym VARK. This stands for:
Visual
Auditory
Reading
Kinesthetic
Current learning research (referred to as pedagogy) predicts that the key to keeping learners engaged with a topic is to move between different modalities on a 5-10-minute interval. For example, our online Professional Ethics course begins with me telling a story about my own experience with critical decision-making. Storytelling activates the visual part of VARK and research shows a message wrapped in a story is more likely to be remain in a participant's long term memory. The course then asks you to read a short (and fun) case study, which activates the reading part of VARK. I then talk through and debrief the activity, which activates the auditory part of VARK. In our live courses, I would also provide handouts and other learning props to activate the kinesthetic part of VARK. This is activated when a learner is able to physically touch an item.
There are many examples of these throughout our courses. All these design choices have been made with the intent of keeping the learner engaged and maximizing learning.
Q: What made you pivot your CPA career into education?
A: There is a wonderful creative energy to being in education. There is the creativity involved in designing a learning program to be both engaging and informative, and there is also the personal fulfillment of making continuing professional development truly rewarding, rather than just a requirement.
This career path became clear to me after delivering a training program for new auditors when I was a manager in public accounting. I was extremely nervous and anxious to start the course.  But, by the end of the course, I felt very proud to have worked with these new professionals imparting encouragement, shared experiences and technical knowledge. It was at this point that I wanted to dedicate my career to education. Now, it was long winding road from that point to Sheriff Consulting, but that moment was my inspiration.
Q: Sheriff Consulting Online offers a various range of seminar topics,  from stress management and motivational teamwork to professional ethics and artificial intelligence . What do you enjoy the most about teaching on such a wide range of subjects?

A: The thing I enjoy the most about teaching on such a wide range of subjects is understanding how they are all interconnected. For example, motivation, professional ethics and artificial intelligence seem like mutually exclusive topics. However, the critical competency that connects all three is decision making. Current research shows that there is a positive correlation between increased motivation and decision making that we see as meaningful to others or ourselves.
Professional ethics involves the ability to make challenging decisions that also adhere to our professional code of conduct, and artificial intelligence technology has the potential to completely change the way we make decisions. I love drawing these connections in the classroom as communication and technical competencies become more intertwined.
Q: In your opinion, which form of new technology is causing the largest disruption for the accounting profession and how can CPAs capitalize on change? 
A: Artificial intelligence, and specifically machine learning, is already significantly impacting the accounting profession. For example, in my specialization, the assurance profession, risk assessment processes are beginning to incorporate machine learning application software such as dynamic audit solutions.
However, I see these new technologies as an important opportunity to re-engage in what we as a profession do best, which is analyzing and using critical thinking. The increasing use of AI will provide opportunities for our profession to ask better questions and provide even better answers. This will also lead to more opportunities for us to be used as a trusted resource to ensure that AI is providing quality information and not GIGO (garage in and garbage out).