This original article appeared in Dividends' sister magazine, Capitalize, which is intended for high school and post-secondary students. 
It's said that a dog is a man's best friend, but did you know that a dog is also a CPA's best friend? These furry companions are present not only during happy and stressful moments, but also during life-changing events. From hikes in the mountains to cozy nights on the couch, they have been through it all with their CPA owners!
Capitalize Magazine caught up with CPAs to shine a spotlight on their adorable pups, find out why these CPAs love their pets, and hear about the different ways their four-legged pals impact their lives.
Moose: the Family Companion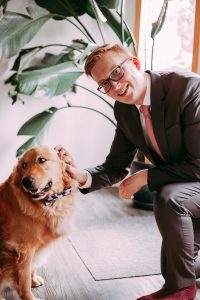 Jan Nutting CPA, CA, CFP, Partner at Fletcher Mudryk LLP, knows a thing or two about the benefits a pooch can have on a family. After months of research on dog breeds, Jan and his wife, Tonia Roffey- Nutting, knew that a golden retriever was right for them. That's where Moose, their two-year-old golden retriever, comes into the picture. When the Roffey-Nutting family met Moose—who was adopted from a farm near Grande Prairie—they knew Moose's demeanour would fit very well with theirs.
"When I'm home, I'm usually pretty low energy, and I just want to cool down or unwind. Moose is always in the same mood," explains Jan. "We enjoy spending time on the couch. Moose's laid-back personality is perfect for that."
Whether it's relaxing together at home or going for long walks around the local reservoir, Moose and Jan have become constant companions.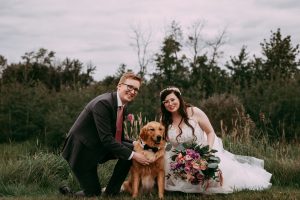 "I must admit, it was a lot tougher when Moose was a puppy because he needed a lot more attention," says Jan. "But as Moose has grown up, he's learned how to work around me and has picked up my habits. We've gelled and gotten into a really good rhythm."
Moose is a priority in Jan and Tonya's lives. That's why it is no surprise that he also participated in their wedding! Jan proudly shared photos from this special day, which include Moose dressed up for the occasion.
Bob Marley: True Büch Mascot
As an entrepreneur, you get to set the rules. So, why not add your four-legged companion to the team? True Büch Founders Louisa Ferrel CPA, CA and Conrad Ferrel CPA, CA did!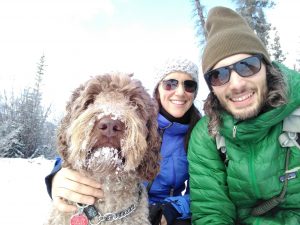 Louisa and Conrad's labradoodle, Bob Marley, holds an important position with the company. He is the Chief Dog Officer.
"Bob Marley's responsibility is to be cute and friendly," says Louisa. "When we were just starting True Büch, we'd bring him everywhere and post photos of him on Instagram. He became a local celebrity and our #truebuchpooch mascot!"
When Bob Marley isn't tackling his responsibilities at the office, he works at the Alberta Children's Hospital, volunteering with the Pet Access League Society (PALS) program. Bob Marley meets with children and brings them a bit of happiness whenever he can. This was actually one of the reasons Louisa and Conrad were drawn to Bob Marley. "We always knew that we wanted to participate in the PALS program. Since one of Bob Marley's parents was a therapy dog, we knew Bob Marley would have a very chill personality. He is never really agitated, which is great for us and the children's hospital," explains Louisa.
Louisa likes to joke that Bob Marley, with his kind and calm personality, is like a mini Conrad.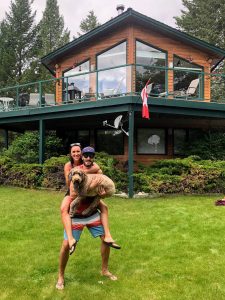 "Conrad has a very serious, grumpy, old man personality, and we joke that he turned our dog into a grumpy, old man," laughs Louisa. "It's funny because my husband was anti-dog at first. I was the one that pushed the dog on him, but now he's obsessed with Bob Marley. Conrad has now said that he could never imagine life without a dog. He's never going to be the same!"
Running their own company, Louisa and Conrad are able to squeeze in time with Bob Marley throughout the day.
"As an entrepreneur, you have the flexibility to do certain things on your own time. So, Conrad and I sneak home to let Bob Marley out or take him for a walk," says Louisa. "Bob Marley gets a lot of attention from us, just by virtue of our working arrangements."
Louisa and Conrad also make sure to treat Bob Marley to his favourite snacks: cheese and salmon skin. However, nothing could replace Bob Marley's love of swimming. Every summer, Bob Marley can be found enjoying the water—in his doggie life vest, of course—at the family cabin near Columbia Lake in British Columbia. It is the perfect opportunity for everyone to enjoy some family time in a beautiful landscape!
Read the entire article in the Capitalize Spring 2020 issue, here.