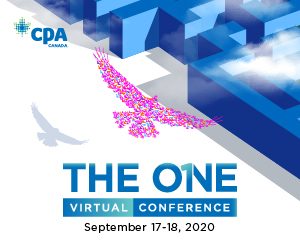 The ONE National Conference was created to connect and inspire accountants as members of one unified profession.
Now in its seventh year, the ONE continues to grow and evolve, creating a dynamic program of relevant and cutting-edge content to help CPAs build new skills and keep up with the pace of change.
The ONE 2020 Virtual Conference is coming up this September 17-18! It's a chance to join other CPAs from across Canada to discover what's next for business, accounting, finance, and technology.
Find out what the future holds for the profession—including how to embrace innovation and keep up with the pace of change, no matter what industry you're in.
With this virtual conference, there are no travel costs or safety concerns about COVID-19, so the focus can be on making the most of your time.
The ONE 2020 includes more affordable, accessible options to learn than ever before. Build customized packages to attend and earn CPD, starting at $99. This year's theme is Facing Unprecedented Change As One, and will include engaging sessions, inspiring expertise, and interactive work.