Q&A with Garrett Wasny, MA, CMC, CITP/FIBP
This spring, CPA Alberta will be hosting three seminars with Garrett Wasny, MA, CMC, CITP/FIBP, an award-winning internet speaker, author, app developer, and professional development technologist. In this article, Garrett shares key points about the subjects he's covering.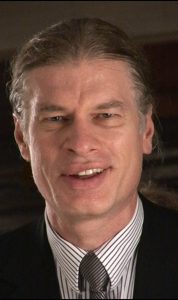 How can CPAs identify opportunities for innovation within their own organization?
Exploring robotic process automation or RPA is one way CPAs can identify and take advantage of innovation opportunities. RPA is software that can log into an application, enter data, make calculations, complete tasks, log out and much more with minimal human intervention. RPA is being used by tens of thousands of enterprises worldwide to automate countless business process tasks. This frees up employees for more creative and higher-value work and more complex problem-solving.
RPA tools are now a mainstream and core productivity program in all the Big Four accounting firms. In taxation, RPA is used to gather trial balance data, calculate book-tax differences, reconcile intercompany transactions, complete tax return workbooks, submit tax returns, and more. In the advisory domain, RPA solutions have focused on bank reconciliations, accounts payable and expense processing, fixed assets analyses, credit assessments, and other financial and operational processes.
The result?  Big Four firms report "stunning increases" in efficiencies—70-80% faster processing times for starters.
CPAs may wonder how RPA can be applied to innovate their own accounting operations. The best approach is to ask some simple questions: "When I come into work, what do I NOT want to do?" or "What is the most boring activity in mycurrent role?" These tasks are prime candidates for automation in some way. Priority tasks ripe for RPA are manual business activities that are high-volume, repeatable, non-subjective, highly structured, and rules-based.
What is open innovation? Why is important to understand?
Open innovation is a belief that fresh ideas and solutions to solve complex problems can come from anyone, anywhere, at any time. The concept is critical because it's radically transforming the way the world now accomplishes tasks and tackles challenges. In today's hyper-social, mobile, analytical, and cloud age, a growing share of enterprises in every industry is no longer relying on their own in-house R&D department or other internal resources to develop new product, process, and service ideas. Decision-makers are turning outward and looking beyond their enterprise walls for new perspectives. They're on the hunt for "brains for hire" worldwide to solve their urgent business, scientific, and technical problems.
The approach is a way to efficiently get outside perspectives on internal projects, reduce R&D costs, bust knowledge silos, see old products a new light, and recalibrate thinking and decision-making.
Can you give examples of how organizations are leveraging smart contracts?
A smart contract is a computer program, script, and code that automates the "if this happens then do that" part of traditional contracts. A vending machine is a simple example. You identify the item you wish to purchase. You put your money in the slot or swipe your credit card. The vending machine determines if it is the correct amount of money. If not, the vending machine asks you for more money, or offers to return the money you have already inserted. If yes, the vending machine releases the item you selected. Smart contracts work the same way. Two or more parties state their conditions. If the conditions are met, the transaction is completed and executed.
One leading example of smart contracts is fizzy at https://fizzy.axa. The France-based service provides one-shot flight delay insurance for a specific flight route. Say you're scheduled on Air Canada Flight 128 from Vancouver to Toronto on June 8. After entering your flight and personal details, fizzy allows you to purchase a smart contract that provides automatic compensation in case of a flight delay or cancellation. In this instance, if you pay a premium of 35 euros, you will receive payment of 500 euros if AC128 is cancelled or delayed by two hours or more. No claim forms, proof of delay, or other paperwork are involved. You're insured against your plane being late, whatever the reason: weather, strikes, mechanical problems, or any other issue.
All this is possible thanks to smart contracts.
What impact will artificial intelligence have on the skills needed to thrive in the digital era?
In the modern enterprise, accountants have no equal. They have unmatched expertise, experience, and insights to manage money, juggle competing pressures (ethics, commerce, and regulations), speak truth to power, and much more. A torrent of emerging technologies like artificial intelligence, blockchain, and data analytics is now smashing through the accounting profession's core functions.
Despite the alarmist headlines, this is actually a blessing and positive turning point for the accounting industry. New bots and machine learning software are freeing up practitioners from mundane tasks that typically under-employ the skillset of practitioners. Used wisely and embraced enthusiastically, new technologies will help transform accountants from backward-looking historians to forward-thinking analysts and decision-makers.
Practitioners bring immeasurable value to the table—integrity, objectivity, attention to detail, technical rigor, analytical mindset, deductive reasoning, and critical thinking to name only a few. These vast cognitive resources can be redirected toward higher-value tasks and more mission-critical activities.
Looking ahead, the future of accounting will be a blended mix of humans and bots. The most successful accountants will be those who mesh robotic automation with their own best human traits, such as empathy, creativity, curiosity, and strategic oversight. A new species of accountant is about to emerge—one with untold new analytic superpowers. Artificial intelligence is not a threat if CPAs are prepared to change their mindsets and view the technology as their new digital sidekick, not a technology overlord.
Delve deeper into these subjects by attending Garrett Wasny's upcoming CPA Alberta PD seminars:
Automation Survival Guide for Accountants Live Webinar- June 12
Smart Contract for Accountant Live Webinar- June 26 or join the in-person session on June 26 in Edmonton!
Open Innovation for Accountants Live Webinar- June 27
And stay tuned for a part two article from Garrett on how organizations can increase the chance of success in digital transforming their business processes!