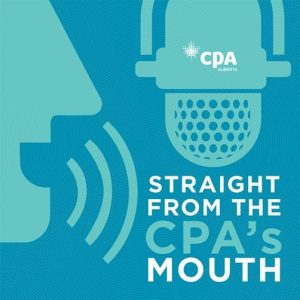 The Hesje CPA Knowledge Centre podcast, Straight from the CPA's Mouth, is back for Season 2!
In Season 1, listeners heard Alberta CPAs share their experience, knowledge, and insights on eye-opening topics such as leadership, business, education, finance, and more. Episodes focused on individual CPAs with unique stories, careers, and accomplishments.
Today, we're excited to share that Season 2 takes a slightly different approach. This season focuses on broader ideas and topics for CPAs to really showcase their value and insights. Unique to this season, episodes are planned in a series format—so if there is a topic that peeks your interest, you can count on more episodes to follow!
The first series theme is Generations. In this series, we catch up with business professionals across multiple generations, with a focus on finances. Guests give listeners some historical background and show them how we progressed to the landscape today. Through these episodes, you'll start to understand and appreciate various approaches to finances, as well as learn valuable tips, and universal financial principles. You'll maybe even find some tips worth applying to your own financial decisions.
So are you ready for Season 2? It's already available.
Season 2 kicks off with a with a two-part interview with the resilient and ambitious Kat Giyasova called From the East to the West: An Interview with Kat Giyasova. Born in Uzbekistan at the collapse of the USSR, Kat's parents made the tough decision to move their family to Thailand. As Kat completed her education in the country, it became clear that citizenship wouldn't be in the cards. This is when Kat and her family decided to re-locate to Canada and work to gain their citizenship. Through dedication and commitment, Kat successfully wrote her final university exam and citizenship test in the same week. Today, Kat is proud to say she passed the CFE in 2019 and, once she completes the required practical experience hours, she will be a CPA!
In the episodes with Kat, she shares her insights on what it means to grow up in a developing country, and the significance for her of becoming Canadian citizen. She also gives advice for newcomers to persevere, and to Canadians to be open, curious, and supportive of those who are from different places.
Also keep listening for upcoming episodes in the Generations series!
In Generations, we also sit down with with Kari Speaker Smith CPA, CA, CFP, Partner at Fletcher Mudryk LLP, and Ryan Gubic CPA, CGA, CFP, PMP, Founder and President of MRG Wealth Management and CPA Education Foundation board member, for a roundtable discussion. Make sure to catch these episodes, as Kari and Ryan chat about the four largest generations of today—Baby Boomers, Generation X, Millennials, and Generation Z—and the historic and economic circumstances each generation has faced or are facing now, how each tends to handle finances, how the specific generations have fared in light of their unique circumstances, and what universal financial lessons can be learned from each. This two-parter comes out June 1 and June 15.
You can find Straight from the CPA's Mouth on all available podcast platforms or you can learn more here.