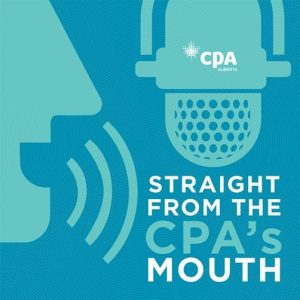 Launched in May 2019, the CPA Alberta podcast Straight from the CPA's Mouth focuses on an illuminating question to spark conversation and ends with participants posing another important question to the next guest(s). Hear Alberta CPAs share their experience, knowledge, and insights on eye-opening topics such as leadership, business, education, finance, and more.
The podcast series is entertaining and informative for CPAs, CPA candidates, and everyone else! If you haven't already tuned in, with over 20 podcast episodes, you have plenty of hours to catch up on during this time of social distancing! The most recent episode was the final installment of Season 1, and featured Todd Scaletta FCPA, FCMA, Senior Vice President of Foresight and Research at CPA Alberta,. Todd discussed the five drivers of change and the potential futures they might create. And, when you are done Season 1, you won't have to wait long for Season 2 – it launches May 4!
Straight from the CPA's Mouth is available on all podcast platforms. You can learn more here.