Hybrid mismatch arrangements are one of the types of base erosion identified in the Organisation for Economic Co-operation and Development (OECD)/G20 project on Base Erosion and Profit Shifting (BEPS). Hybrid mismatch arrangements are tax plans intended to secure a tax advantage within a multinational enterprise by exploiting differences in the tax treatment of the same financial instrument or entity between different jurisdictions. The Canada Revenue Agency (CRA) confirmed that it has resolved a file regarding a hybrid mismatch arrangement involving the deduction of non-arm's length interest in a series of transactions that included a forward subscription agreement (outlined in the diagram below) on the basis that paragraphs 247(2)(b) and (d) of the Income Tax Act and transfer pricing penalties applied.
It is the CRA's general view that such transactions are undertaken primarily to obtain a tax benefit and that they would not be undertaken by parties dealing at arm's length. When the CRA finds transactions similar to the example below, the Transfer Pricing Review Committee will be consulted regarding the application of paragraphs 247(2)(b) and (d). Where these paragraphs apply, related transfer pricing penalties will generally apply on the basis that taxpayers engaging in this type of tax planning did not use reasonable efforts to use arm's length prices, terms and conditions in their transfer pricing.
Taxpayers and their advisors are invited to contact their International and Large Business Case Manager or the CRA's International and Large Business Directorate for more information.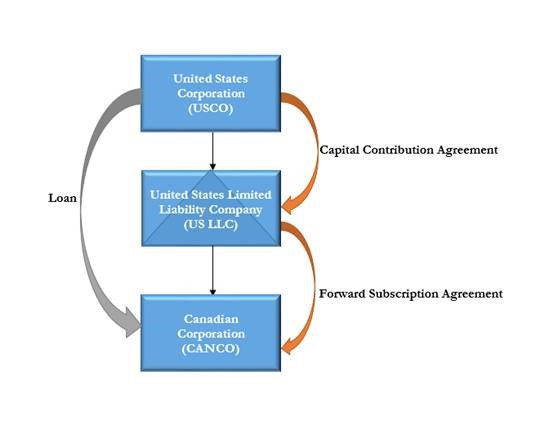 This update was provided by the CRA.