Mark your calendar –  registration for CPA Alberta's Jumpstart Data Analytics in Finance and Accounting opens Friday, September 4!
This is your opportunity to connect and engage with fellow CPAs, learn about CPA Alberta's products and services, and participate in a free PD workshop. This year's Jumpstart event features a presentation on data analytics in finance and accounting.
Learn how organizations are leveraging data analytics to produce their competitive advantage, improve customer experience, provide better products and services, enhance margins and profitability, and reduce cost.
Led by Sam Heidai, MSc, data scientist at CPA Alberta, and Larry Brownoff, Director, Member Engagement and Technical Advisory at CPA Alberta, sessions explore the most common tools in the analytics domain. Gain better understanding of what data analytics can achieve and receive insights on the most in-demand data analytics skills for CPAs.
This year's sessions take place throughout September and October. Sessions are divided into Industry, Public Practice, and Public Sector sessions, to make the discussion and learnings as relevant as possible. During these sessions, groups will discuss topics such as:
The data analytics process
Skills accountants need to be more data-driven
The role and application of technology
The path ahead and available resources
Presented in a workshop format, participants will engage in virtual group discussions. To ensure that attendees are given an opportunity to participate, capacity is set to 40 participants per session.
Come ready to share your feedback, gain insights from your peers, and start leveraging data analytics into your strategy! Session are free to attend.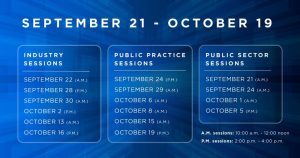 This session may qualify for up to 1.5 Continuing Professional Development hours.