Waves of disruptive technologies and innovation are rolling in at a rapid pace. Changes to data practices, technology management, and online applications, among others, have coupled with new technologies, automation, and increasing consumer needs to have a major impact on businesses and the work performed by CPAs. Questions about the future of the profession—including: "am I on a path to growth and adapting?,"  "what is the best business model?," "what are the best resources and tools to use?," and "is my career and training adequate?"—are also rising. The increasing levels of uncertainty and change have the potential to become very real health stressors.
Stress has a powerful impact on your well-being, from both physiological responses and psychological effects. It can also contribute to a number of mental and emotional disorders, including depression, anxiety and panic attacks, and can increase irritability and feelings of anger and insecurity.
CPA Assist wanted to learn more about areas of disruption that are causing CPAs the most stress. During some events for the profession held late in 2018—Practitioner Forums North & South and CPA Forum for Members in Industry (Edmonton and Calgary)—CPA Assist surveyed participants to assess their stress arising from disruption. Participants could choose to respond that disruption impacted them in one of the following five ways:
job security;
knowledge;
amount of information;
changes to business model; or
the option to view disruption is an opportunity, not a stressor.
The results are depicted in the chart below.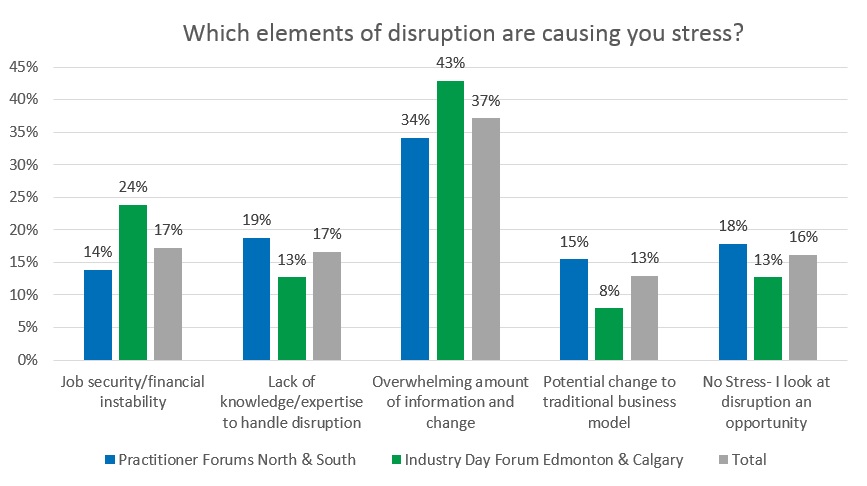 The leading stressor, by a significant percentage, was the "overwhelming amount of information and change." It is easy to see why: the pace of technological adoption is speeding up exponentially. As one CPA shared, "by the time I research, share my findings with the necessary parties, and implement the next steps, there is something new popping up and my work seems obsolete." Another stated, "there is too much to consider. I would need to dedicate time that I do not have to sifting through all of the information and options."
It's not all doom and gloom, however. If fact, 16% of participants viewed disruption as an opportunity. The ability to leverage or reframe any stressor into a positive can, importantly, help establish a competitive advantage, but it can also mitigate the impact stress can have on your personal and psychical health. Reducing stress day-to-day can have a powerful effect in boosting your mood, immune function, and productivity.
Here are three suggestions to help navigate the stressors of disruption:
Seek out more information. Whether through articles, webinars, or seminars, finding ways to keep on abreast on current technologies can help you keep your head above the water. CPA Alberta has expanded its professional development curriculum in the area of emerging technology and innovation. Seminars and webinars in this area include Artificial Intelligence for Accountants, How Technology is Impacting the Accounting Profession, and Blockchain for Accountants..
Build your resource network and expand your connections. Having a network of other CPAs who have worked with different technology advancements can provide you a new perspective and act as a sounding board to generate ideas of your own. Expand your professional CPA network by attending Chapter Events, CPA Alberta Events, or become part of the Connector Program. Increase your networking skills with our webinar Meeting and Mingling at Networking Events.
Understand your stress and discover stress management techniques. Learn how to identify the stressors in your life and equip yourself with effective coping mechanisms. Increasing self-management and conflict resolution skills, adopting a positive attitude, mediation, exercise and diet can all be tools to help you effectively cope with stress. Alberta CPAs, CPA candidates and their immediate family have access to CPA Assist for free confidential support with registered psychologist, dietitians, and fitness consultants who can act as a resource.
Stress and change is something we all experience, but something that can often be effectively managed. However, it's important to recognize when to seek support, or coach others to reach out, when feeling overwhelmed.
If you or someone you know is struggling with stress, personal or professional, or other mental health issues, please reach out. CPA Assist provides confidential 24-hour support to Alberta CPAs, CPA candidates, and their immediate families. Call toll-free at 1-855-596-4222.